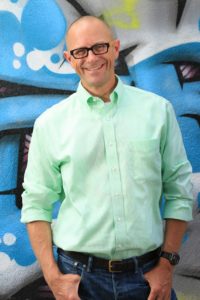 Before I tell you about Kevin Tracy Design, I'd like to take a moment to acknowledge the amazing companies, organizations, and individuals that we've had the privilege of serving. Whether they are building bikes in southern Africa, drilling and repairing wells in the developing world, or rescuing men and marriages from the chains of addiction, each has a powerful story to tell and a passion to make the world a better place to live. They inspire me to do more every day.
I started working in design before I could legally work. My first job was cutting and pasting tabloid spreads for a company that made coupons pages for newspapers across the country. Macs weren't on desks anywhere, and the tools of choice were a sharp X-Acto, a waxer and a can of Bestine. To this day, I love the smell of printing ink on 3AM press checks, sketching until it's perfect, and hammering a concept until that miracle idea shows up, I love everything about it. Creating solid design then seeing it roll off the press or appear on a screen is always a thrill.
Things have changed a LOT since I started, and had the joy of growing with the industry. I have worked with B2B ad firms, small design firms like EAT Design and superstars like Ann Willoughby, and thrived in the corporate world of Hallmark Cards.
Now, I make vision visible, crafting strategically unique communication tools for web, branding, and print to support B-Corporations, socially minded businesses and nonprofits in Denver, CO.
Between Times
In 1998, my family and I took a break from design. We spent 6 1/2 years in Peru working with multiple nonprofits, planting two churches, leading treks through the Andes and raising a family. (Three of our children have dual citizenship.) We came back home with fluent Spanish and a deep appreciation of Latin culture. I pastored a small church in Wheatridge, CO and served as Outreach Pastor at a larger suburban Denver church for 5 years. In that time, we focused on sustainable development and leading clean water projects in West Africa, central China, and North Africa that brought clean water to over 200,000 people.
During that season of serving nonprofits, I kept designing, developing website themes from scratch for WordPress and Drupal, crafting logos, maintaining my creative skills and learning to communicate the intangible vision of a large charity in ways that generate tangible results and move people into collaborative roles to further that mission.
I understand what it's like to try and draw others into your vision for a better world. I know what it's like being on the field working day and night to make that difference, then trying to tell others so they see the vision and join your passion to make an impact. I have learned how to tell that story in ways that capture the imagination of the very people who can help you change the world.
I can help you tell your story, engage your audience, and increase your impact. As you can see it's much more than design, it's a way of thinking, a way of approaching problems to find holistic and aesthetically beautiful solutions.
Experience
Education: KU, Kansas City Art Institute: BFA, voracious reading habits, and experience in the field
Design: Willoughby Design, EAT Design, Hallmark Cards, Kansas City, MO
B2B Advertising: Hickerson Phelps Kirtley, Kansas City, MO
Nonprofit: 6.5 years in Lima, Peru; 5 years Grace Chapel; 3 years LightHouse Media Board Member, Malta; 5 years Clean water development and well repair, West Africa. (some times concurrent with others)